Security Screen Doors and Windows
Steel woven mesh security screens are the latest innovation on the market. We carry premium three lock point doors for both swinging and sliding doorways. Protect your windows with 65% light blocking steel and keep pests and criminals out. Retain great views and enjoy a good night's sleep with peace of mind at the same time!
Security Never Looked Better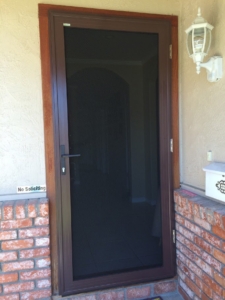 Modern security products bring an upscale look to a home. With clean designs and clear mesh, windows and door look like they have a simple sun shade cloth on them. Inside the protected home, you have great visual acuity and reduced UV glare. Go ahead, and sleep with the door open.
Titan Security Products
Titan Security carries a wide variety of designs. Their biggest line are the Premium security doors with laser cut designs. These products can be combined with regular screen, sunshade, glass or Meshtec steel security screens. These doors are compatible with traditional entry door locks and handles.
Their newest line is the UItimate Security Screen line. These units focus on providing a good Meshtec security screen platform that comes with integrated locks and frames.
Based in Arizona, Titan fabricates custom made solutions as well as imports products internationally. They have four basic colors for their standard sizes, and up to 14 for any custom made door.
Vista Security Screens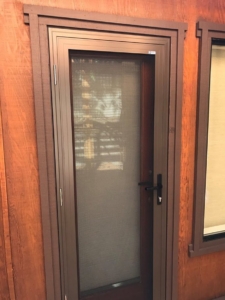 Vista differentiates itself with fully integrated frames, brush sweeps and thick steel hinges. Their doors are measured for tight in jamb and flush installations. They have distinctive mitered corners for a crafted look. This company focuses on one frame style and does it very well.
Designed for Security Applications, Vista Security Screen™ Helps to Prevent Burglars From Gaining Access, While Also Providing Homeowners With Ease of Use, Entry and Exit.
Provides Protection and Ventilation With Unobstructed Clear Vision Views!
Perfect Replacement of Old Style Steel Bar Type Security Doors
Incorporates Specially Designed Multi-Point Lock Systems
High Resistance to Forced Entry
Exclusively Made With Certified 316 Marine Grade High-Tensile Stainless Steel Black Powder Coated Security Mesh
Nine Standard Aluminum Frame Colors
Vista Security Screen™ Security Doors and Window Screens Provide a Security Barrier to Unlawful Entry, Discouraging Intruders
Basic Security Solutions
East Bay Screens can also get simple single lock and barred security doors and sliders. These products are time tested and have protected older homes and neighborhoods for decades.
Sentry & Gibraltor Security Doors
These aluminum security swinging screen doors provide an insect-tight fit. A heavy duty aluminum amplimesh grill is inserted into a powder coated frame, making for a strong yet resilient door. The Sentry Door is constructed from a 7/8″ x 2-7/8″ .060 extruded aluminum frame, with double strengthened extruded corners.
 Additional features:
Allows maximum ventilation with security
Double keyed or thumb lever internal lock
Decorative heavy duty 1/4″ full amplish diamond pattern grille
Heavy duty closer for smooth closing
Lever handle internal and external
1″ deadbolt & thumb turn cylinder
Doors available in White, Bronze, Black, Tan and Adobe powder-coated finishes.
Professional Installation
As with all security doors the installation is critical for tight and secure fit. East Bay Screens provides a highly trained professional technician to come to your home to install on site. After the installation, we go over how to operate the door with the homeowner and do a joint inspection of the door.